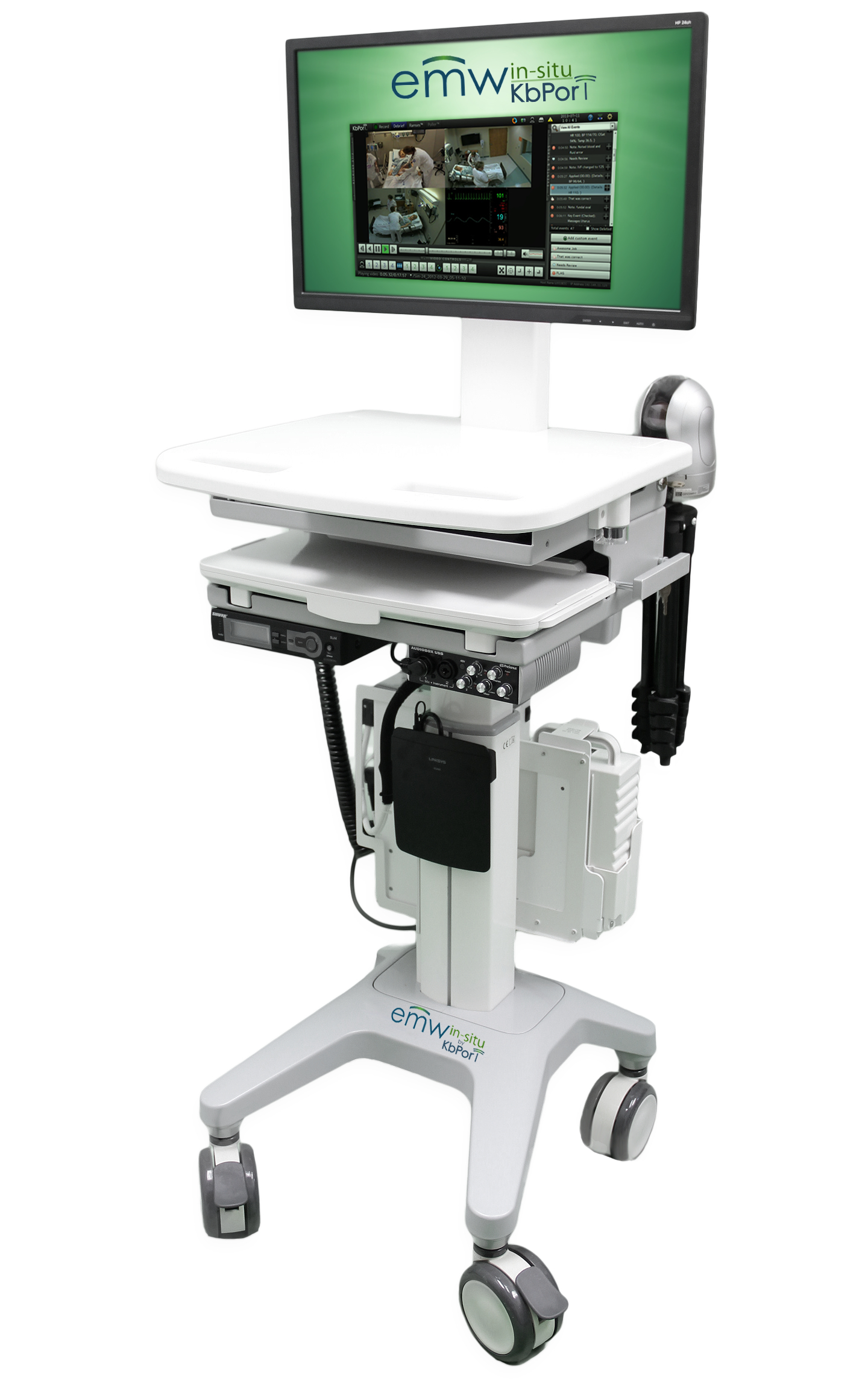 EMW In-Situ™ Features
User-friendly ETC FusionHD™ recording & debriefing software
High-quality digital encoding for storage & web streaming
High-definition pan-tilt-zoom (PTZ) cameras
Supports multiple video feeds (including vitals monitors)
Software based PTZ & audio equalizer controls
Includes SimLink™ technology

Real-time data capture from simulators

Built-in video editing & export capabilities
Recording & LIVE viewing accessible from any networked device
Supports industry standard web-browsers

Firefox, Google Chrome, etc.

Ability to add event tags during LIVE view & playback
Quick navigation using event tags & slider timeline
Authorized access for security & confidentiality
Live, real-time recording & data capture
KbPort™ Archiver™ integration
KbPort™ standard 1-year warranty coverage
EMW In-Situ™
KbPort™ EMW In-Situ™, a compact and reliable mobile workstation, utilizes the latest wired and wireless technologies. This allows for integration into any simulation setting. The cart houses the ETC FusionHD™ system with scheduling, inventory management, assessment, and archival software. Two superior optical cameras and tripods are easily attached to the cart for fast transport to your next simulation or debriefing area.
With scheduling, inventory, assessment, and archiving capabilities, the EMW In-Situ™ is an all-in-one mobile package. It is quick and simple to setup, break down, and move to the next training location and can easily be retrofitted to a fixed lab setting later.
EMW In-Situ™, our compact mobile workstation, featuring ETC FusionHD™, adds value to your simulation environment by offering the flexibility of decentralized recording and debriefing.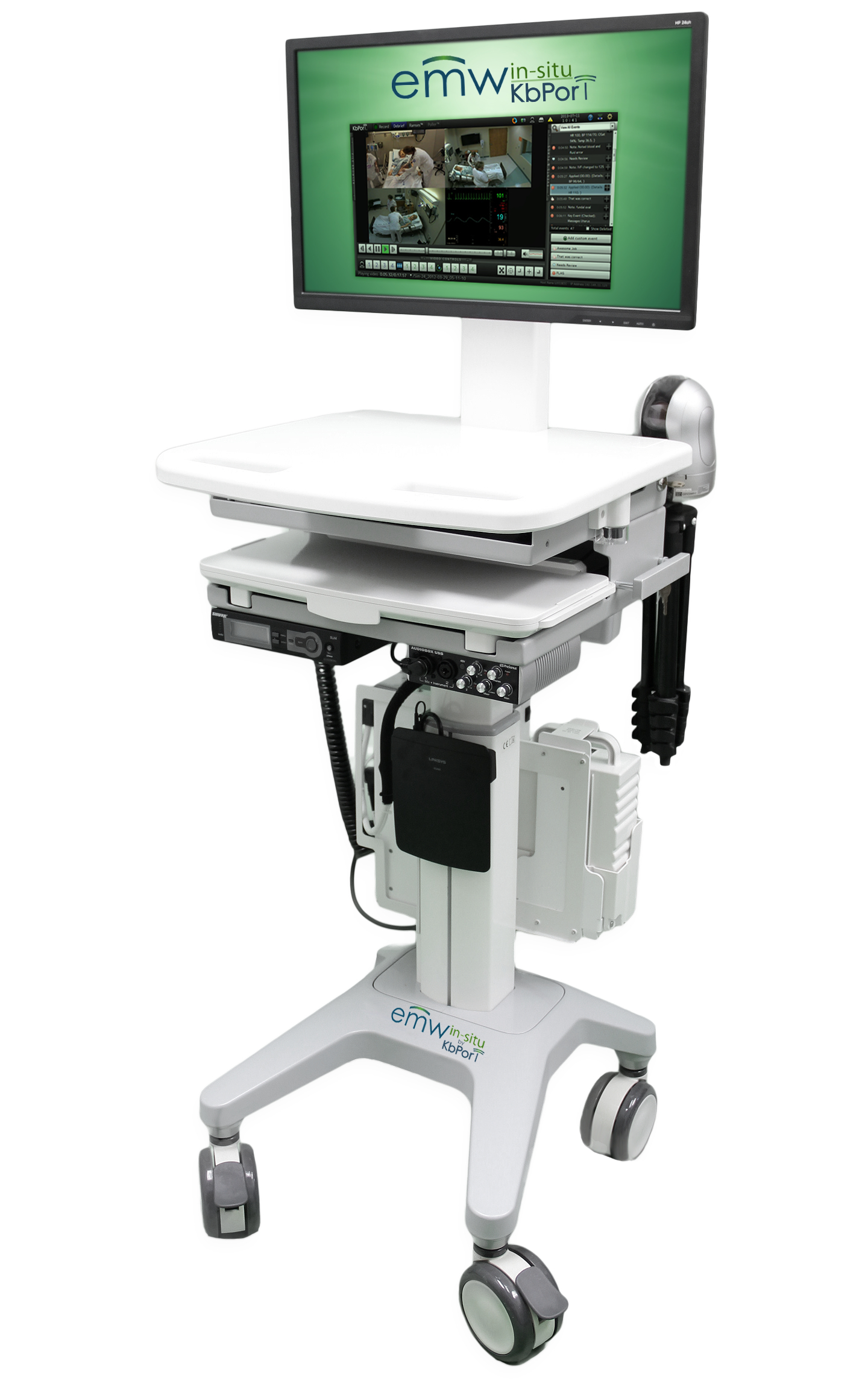 EMW In-Situ™ Features
User-friendly ETC FusionHD™ recording & debriefing software
High-quality digital encoding for storage & web streaming
High-definition pan-tilt-zoom (PTZ) cameras
Supports multiple video feeds (including vitals monitors)
Software based PTZ & audio equalizer controls
Includes SimLink™ technology

Real-time data capture from simulators

Built-in video editing & export capabilities
Recording & LIVE viewing accessible from any networked device
Supports industry standard web-browsers

Firefox, Google Chrome, etc.

Ability to add event tags during LIVE view & playback
Quick navigation using event tags & slider timeline
Authorized access for security & confidentiality
Live, real-time recording & data capture
KbPort™ Archiver™ integration
KbPort™ standard 1-year warranty coverage

Standard Compontents
ETC FusionHD™ recorder

Intel Core i7, 512 GB SSD, 8 GB desktop server
24″ LED monitor
Wireless keyboard & mouse

KbPort™ custom mobile cart

Adjustable-height working platform
Custom wiring tray with connectors
Integrated tripod mounting system
Integrated cart battery
Locking casters; soft, non-marking rubber

2 HD pan-tilt-zoom (PTZ) cameras
2 Telescoping tripods
8-Port network switch
Wireless access point
Wireless boundary microphone & receiver
Cabling
Quick start guide
Setup usage & instructions