SimDispenseRx™
Desktop Dispensing Bundle
The SimDispenseRx™ Desktop Dispensing Medication Bundle is a compact, portable desktop system that replicates the use of either a bedside administration cart or a medication dispensing cabinet.
The learner can practice routine tasks using SimEMR®, which is an interactive, web-based, simulated electronic medical record solution that enables the student to learn electronic charting in today's hospitals.
A wristband printer and barcode printer for practice are also included.
Single Monitor Bundle Product ID: SD-01
Laptop Bundle Product ID: SD-02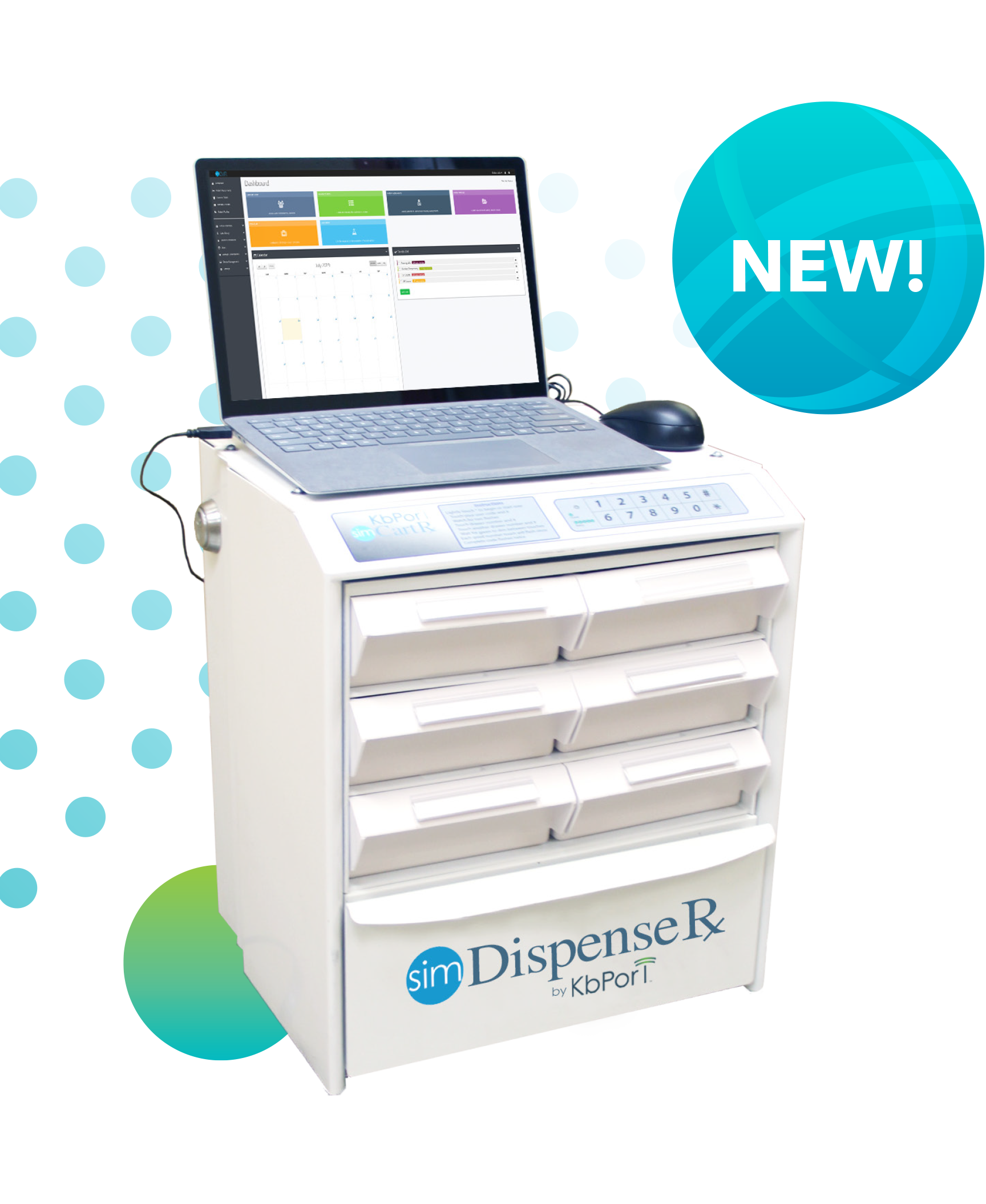 UPGRADE PATH: SimEMR® with individual user license includes the use of Virtual MedsManager™. The SimEMR®/Virtual MedsManager™ combination allows students to practice charting and medication dispensing skills outside of the simulation lab, allowing for more efficient use of in-lab instruction time. Please contact a KbPort™ representative for a more detailed explanation of this product and a quote.

Features
Mobile charting workstation with power supply
7 electronic, independently operated medication drawers via SimEMR® or keypad
Single monitor workstation w/USB keyboard & mouse or laptop

Must choose single monitor or laptop

Wristband printer
Barcode printer
Barcode scanner (wireless optional)
Nursing Education Lesson Plans – Level One

1 copy with sample learner assignments

SimEMR® (cloud-based EMR)

1 instructor license, 1 student license

*

Unlimited 3-year per campus site license

MedsManager™ with sample formulary
1- hour online training
Standard KbPort™ parts warranty (2-year)
NOTE: The student license is based on group tasks where a shared license is used to perform various lab exercises. This does not allow for individual user data tracking or the use of Virtual MedsManager™. For individual user tracking and Virtual MedsManager™ an individual license will need purchased for each learner.

Additional Desktop Dispensing Stations Include
Mobile charting workstation with power supply
Single monitor workstation w/USB keyboard & mouse or laptop

Must choose AIO or laptop

Barcode scanner (wireless optional)
Additional Station w/Single Monitor Product ID: SD-03
Additional Station w/Laptop Product ID: SD-04