ECC™ – ETC™ Command Center
ECC™ allows end-users to control all ETC™ recorders from one central location. All video feeds from the various rooms throughout the simulation center are displayed on a large monitor, making it easy for technicians to monitor the entire training facility and make adjustments to camera angles as needed.
Simplicity7™ Automation™: Multi-room Recording
Clinical simulation using standardized patients brings the next step in simulation based learning for medical education. Simplicity7™ Automation™ builds off of the feature-rich Simplicity7™, providing an integrated solution to conduct SP-based, simulator-based, as well as hybrid simulation in your simulation center. Simplicity7 Automation™ integrates with ETC™ V7™ recording and debriefing systems to allow automated video recording for clinical encounters to be used for self-reflection, debriefing and training.
Simplicity7 Automation™ offers a smart solution for OSCE examinations and other clinical skill learning encounters for training and assessment. A central command station offers centralized monitoring and administration of the sessions.
As a web-enabled application, the solution offers flexibility and alleviates the hassles of installing software.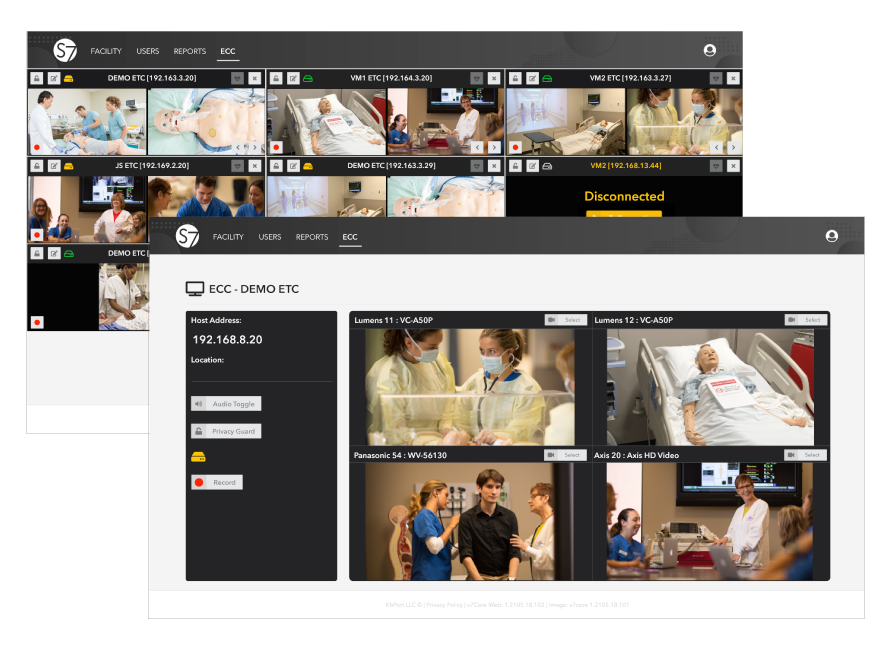 Features
Scheduling via Simplicity7™ software
Auto-start, auto-stop recording for each ETC™
Auto-archiving feature
Selectable room audio for monitoring
Labeled cameras for easy control
40″ to 65″ monitor with mount
Up to 20 rooms displayed
ECC™ software
Standard KbPort™ parts warranty